SBSO ARRESTS MAN ON NARCOTICS, WEAPONS CHARGES
The St. Bernard Sheriff's Office arrested a man on various charges including narcotics and weapons violations following a traffic stop, Sheriff James Pohlmann said.
Gregory Ward, 23, of the 4500 block of Anais Drive in Meraux, was booked with possession of a firearm by a convicted felon, possession of a firearm while in possession of a controlled dangerous substance, possession of Tapentadol, resisting an officer by refusing to identify, child restraints required and suspended driver's license.
On Nov. 3, shortly before 1 p.m., Sheriff Pohlmann said, Field Operations Bureau Patrol Division deputies who were in the Chalmette area conducted a traffic stop for a small child moving freely around the interior of a vehicle traveling near the 4000 block of Paris Road in Chalmette.
During the traffic stop, deputies detected a strong odor of marijuana emitting from the interior of the vehicle, and the driver, later identified as Ward, gave a false name and birthdate to deputies.
Following a search of the vehicle, deputies recovered Tapentadol tablets, a Glock 19 Gen5 firearm, a Romarm/Cugir Mini Draco firearm and numerous suspected fraudulent bank cards, bank transaction statements and checks totaling approximately $150,000.
A criminal background check was conducted on Ward which revealed he is a convicted felon, is on active probation out of St. Tammany Parish and has a suspended driver's license. Ward has numerous previous arrests for bank fraud, drug related charges and simple burglary.
He also was found to have an outstanding warrant for a traffic attachment out of Jefferson Parish.
Based on the above findings, Ward was transported to St. Bernard Parish Prison to be booked on the above charges.
Detectives with the Criminal Investigations Bureau are continuing to investigate this case, along with several federal agencies.
#sbso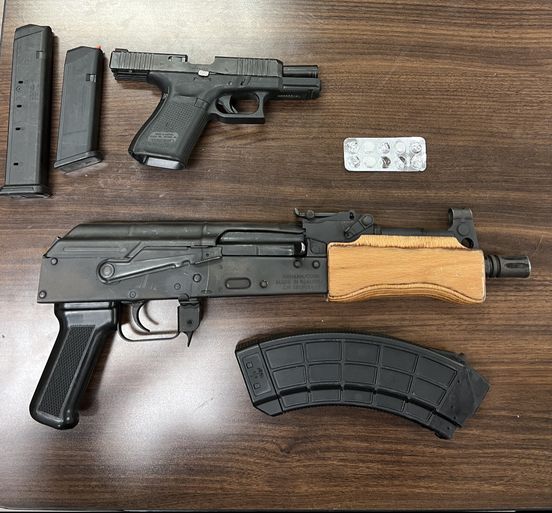 2022-11-10 10:59:07